Report an outage your way - it's easy and response can be faster
There are two ways to report a power outage at your home or business location and, of course, you always can call us. Make sure to contact us about any power interruptions. Reporting your outage identifies the location immediately and helps our crews respond faster. 
Leaving it to a neighbor to report may leave you in the dark.
1. CALL - 800-445-4840 and select option 1.  This remains a great outage report option for you.
2. TEXT - report your outage using a mobile phone. Call our office to set up this service or follow the steps below to get your mobile phone registered. Once your mobile phone number is registered, we can determine which Member is calling or texting so there is no need to text your address. Simple, right?
STEPS TO ACTIVATE OUTAGE TEXTING
a) To opt-in, call 800-445-4840 (during business hours only) and press 0 to speak to a Member Services Representative or Text "HWPOWEROUT" to 800-445-4840.
b) Once your mobile phone number is registered, you can notify us of an outage by sending a text to 800-445-4840 by typing "out" in the message box.
c) To opt out of outage texting, send a text to 800-445-4840 and type in "Stop".
NEW
3. GO ONLINE - Visit https://billing.hwe.coop to sign in to your Hancock-Wood Electric account or register for an account. There is an option on the left-hand menu called "Report An Outage" - see the red underlined text below.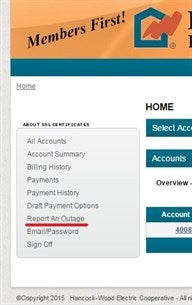 If you need help with any of these options, call a Member Services Representative at 800-445-4840 during office hours - 8 a.m. - 4:30 p.m., Monday - Friday; however, outages can be reported at any time using the same number. We are here to serve you and hope this innovation is helpful in getting you the information you need by the fastest means possible.