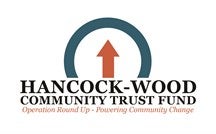 Powering Community Change through Operation Round Up
Across the nation, electric cooperatives have created non-profits to grant Members' spare change back to the community. These non-profits are branded nationally as Operation Round Up. As a participating co-op, Hancock-Wood automatically adjusts Members' bills to the nearest dollar then combines each amount for grants to local organizations and individuals in need.
For example, a monthly bill of $52.73 is rounded up to $53.00. The additional $.27 will be contributed to Hancock-Wood's Operation Round Up fund managed by the HWE Community Trust Fund Board of Trustees. On average, a Member would contribute $6 annually to the fund. These pennies, nickels and dimes have helped raise more than $700,000 to benefit area charities since its inception in 2008.
A six-member board, separate from the Hancock-Wood Electric Cooperative board, reviews all grant applications quarterly and approves applications for assistance — based on demonstrated need and funds available. Anyone is welcome to apply for a grant from the HWE Community Trust Fund, including individual Members who find themselves in need of assistance.
How to apply:
The Hancock-Wood Community Trust Fund board meets four times a year to review applications. Please supply all information by the deadline or mark the application for emergency consideration.
IMPORTANT:
If you are submitting a grant request for an "immediate or emergency attention" this grant will be reviewed by the board before the regular scheduled board meeting and can only be approved for $1,000 or less. 

Deadlines:
Submission deadlines are the third Monday of January, April, July and October each year. An email to the applicant will be sent to confirm your submission.

Decision process:
The board will review applications and contact references prior to making a decision during their quarterly meetings on the third Monday of February, May, August and November. After a decision has been made, the applicant will receive an email with the board's decision. Those awarded grants will be invited to a small check presentation ceremony the week after the board's meeting.
FREQUENTLY ASKED QUESTIONS